NEW GENERATION
Sterile Gauze Sponges
with far infrared rays
and anion chip
Innovation
Blum Sterile Gauze Sponges are a new generation of Gauze Sponges with far infrared rays (Far-IR) and an anion chip.

Highest Quality Sterile
Blum mission is to provide the highest quality Sterile Gauze Sponges and support avoid patients surgical site infection.
Preventive
The Gauze Sponges can be used not only for pre and post-surgery, but are useful as preventive help for various wound conditions.

The bacterium Staphylococcus aureus
The bacterium Staphylococcus aureus is the leading cause of surgical site infections (SSI) in the United States. In particular, Staphylococcus aureus, antibiotic-resistant (MRSA) has become a devastating complication, leading to an increase in mortality rates, increase the duration of hospitalization, and increased costs. Tested for SSI prevention strategies caused by Staphylococcus aureus include addressing modifiable risk factors and the choice and timing of antimicrobial prophylaxis correctly and using the Sterile Surgical Dressing Blum.
S. aureus and infection usually polymicrobial. Pathogenesis and epidemiology if prophylaxis is not given, bacteria colonize burn wounds within 24 hours and cause cellulites of adjacent tissues and septicemia.
The Blum anion chip with far infrared radiation (in the frequency range of human body radiation) has the ability to generate a flow of anions with concentration of 6190↑/cm³ negative ions in a cubic centimeter of air due to the friction and the heat emitted from the body. This promotes the killing of bacteria and eliminates the unpleasant odor. The far infrared rays strengthen and heal the skin and stimulate blood circulation.
BLUM MAIN CHARACTERISTICS THAT MAKE THEM UNIQUE
Blum Gauze Sponges have three important characteristics: They stay dry, are super absorbent and permeable.
The unique sealed individual sterile packaging of every Gauze Sponges protects them from exposure to moisture and microorganisms contamination.


Quickly absorbs and locks in moisture, keeping surface dry *


Permeable to air, which allows the skin to breathe*


Thin, soft, gentle and very comfortable to wear*


Encourages and supports normal healthy skin*


The Blum System is designed
for anti-inflammatory and antiseptic functions
with no side effects
Far-infrared Rays and Anion Chip with tourmaline
The Far-IR rays and anion chip are embedded in the cotton layer of the Gauze Sponges.
This is a distinctive technological feature of Blum products, and when the Gauze Sponges is used, high concentrations of negative ions (6190↑/cm³) can be launched.
The antibacterial function, superior odor reduction and other positive effects can be attained by pure physics.
The Far-IR rays system can improve an individual's metabolism and micro-circulation, activate cells and strengthen the immune system.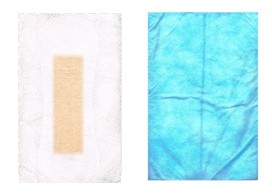 Main Components of the Product
Top Layer
The soft cotton top layer is made with a very thin, soft cotton material which maintains optimal comfort and dryness at all times.
Absorbent layer
The absorbent layer which contains absorbent environmentally safe polymer imported from Japan, can solidify liquid secretions immediately when it is absorbed into the material.
Bottom layer
The breathable bottom layer is made of special materials to ensure the ultimate degree of moisture absorbency to maintain dryness.
Sterile Individual Package
The outer packaging is easy to open, and each individual Gauze is fully sealed to prevent possible contamination.
Manufacturing
Blum permeable Gauze Sponges are manufactured in strict compliance with National Health Standard GB15979-2002 in the People's Republic of China. To ensure that the automated production and packaging process is free from contamination, they are manufactured in a Medical production advanced environment.
Benefits
"Blum" Gauze Sponges are a new generation of Gauze with a new nanotechnology strip, which may improve your surgical wound.*
'Blum" Gauze Sponges may support and normalize Surgical Site Wound pH and stop the spread of microbial infections. The consistency of Gentle Day Far-IR Anion chip is 6190↑/cm³.
pH Friendly
"Blum" Gauze Sponges normalize skin pH and stop the spread of microbial infections and surgical site infections with no side effects. To control bacterial growth, the skin is normally slightly acidic with a pH of 5.0. The skin with a pH 6.5 > is considered in imbalance and conducive to developing infections.
Dimensions
Shape: Rectangular
Size Gauze A) 20 x 8 cm
Size Gauze B) 20 x 13 cm
If you have any questions about our products and services